Media Powers provides more reach from your marketing dollars as result of smart planning, great rates and minimal agency costs.
Who you reach: MEDIA POWERS has the tools to find your targeted audience and deliver your message without waste. Your amazing message is pretty useless when sent to the wrong person.
"Location, location, location." Media Powers can place your marketing message locally, regionally, nationally, and internationally. But that's not all…we will also find the most appropriate real estate within the mediums to increase the return on your investment.
As result of our negotiation tactics, payment history, strong relationships and witty disposition we are able to secure the best ad rates, added value opportunities and premium media placements for our clients.
We run an efficient office so our clients don't have to pay for our waste with their marketing dollars. This means you work with experts, have access to your account reps when you need them and you won't get over charged for service fees or commissions.
For answers to all your questions, even the trivial ones, pick up the phone and call
(678) 710-2400 or contact us TODAY!
The Team – Power Players
Bill Powers
COO/Janitor
Bill Powers is a media planner, buyer and consultant with more than 19 years of experience in both consumer and trade media. He has worked on the agency, client and media sides of marketing, developing a well-rounded understanding of how to build, buy and place effective media plans. Bill's specialty is implementing scalable and quantitative media buys, allowing his clients to reach a targeted audience within budget while achieving their marketing goals.
With a background in small, medium and large advertising campaigns, Bill has worked on a variety of start-up and well-known brands, including: Harley-Davidson, Silk Soy Milk, Yamaha, Evinrude and the Minnesota Office of Tourism. His core values of honesty and ethical business practices consistently earn his business partners' respect.
During those hours away from the office Bill enjoys walking in the woods, searching under rocks and fishing in ponds and streams for his misplaced golf balls. When the sun is not shining Bill can most likely be found with a book in hand.
Chad Loomis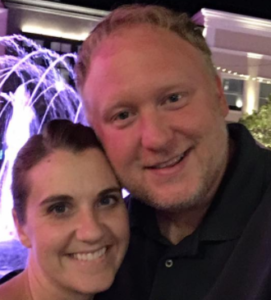 VP of Sales/Wonderboy
Chad has been in media sales for over 20 years.  He has held various sales, sales management, and director roles within both small and large market radio, ABC/Disney, CBS, and Novus Media.
As the VP of Sales for Media Powers, he has a very simple core philosophy.  Always be available for your clients, be honest to manage expectations, and know media inside and out.  He set national sales records for digital marketing, has been awarded for his copywriting, and he is more proud of anything in his ability to retain clients by consistently making them money through his marketing efforts on their behalf.
Originally from North Dakota, Chad moved to Minneapolis in 2006.  In 2016 he moved south to our headquarters in Alpharetta.  He has a wife and 2 young boys that he loves more than anything else in this world.  He was raised with a hard work ethic and holds true to those roots to today.
He loves the Vikings, Twins, Wild, and NDSU Bison (Biz-uhn).  He plays softball in the summer and spends time having fun adventures with his family here in Georgia on the weekends.